From the beginning of planning our business, we knew that giving back to the community would be an important part. We're passionate about eliminating pit bull fighting, and we also wanted to help a children's hospital, as well as support our community in some way.
We searched online and chose to support the three non-profit 501c3 organizations listed below that are making a positive impact in our community. As a small business, our monthly donations are small, however they are continuous. We hope to inspire others to do the same; every little bit helps.
Their websites are listed below for those who would like to donate and lend their support;
Pickens Animal Rescue, Inc. – www.pickensanimalrescue.org
Children's Healthcare of Atlanta – give.choa.org
C.A.R.E.S – www.caresforpickens.com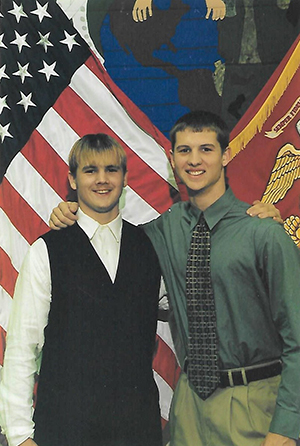 Our donations are being made in memory of my son Matthew, and in honor of my son Daniel. One day Matthew came home with a fat little puppy with short legs. I asked him what breed of dog it was and he informed me it was a pit bull. I told him I had heard bad things about their breed so he should take it back to the owners. He convinced me it was the owners that were the problem and not the breed. He said the parents of the puppies were so smart and sweet, and their names were Sampson and Delilah. I told him if his brother Daniel wanted a puppy then he could keep the one he brought home; Daniel went with Matthew to the owners and picked a puppy for himself. We ended up with two pit bull puppies, which turned out to be an incredible experience for our family. The dogs were a part of our family, not just pets. Matthew's dog Alaster had an aneurysm in the backyard and was put to sleep in December 2008. Daniel's dog Ifirit lived the longest out of the whole litter; she was put to sleep on September 11, 2015. Our dogs have done way more for us than we could have ever done for them! Ifirit was a beautiful pit bull, see her picture below.
In memory of Ifirit Louise Branton.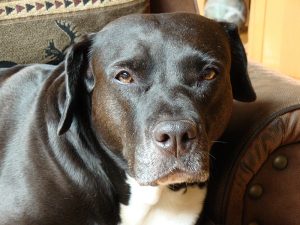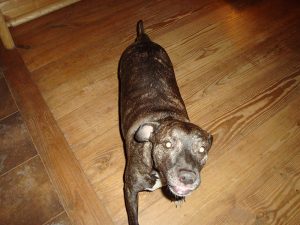 In 2012 Daniel went to get fish food at Pet Smart, he saw a dog barking in a cage and ask if anyone had walked her, the adoption person said no because she was barking and that she was considered a last chance rescue because no one wanted to adopt her. He informed them he had experience with pit bills and wanted to walk her. When he sat down in the parking lot she curled up in his lap, he went back to the adoption person and said he would adopt her. She hit the lottery that day, he came home with fish food and Denali Ann. She is precious and we love her very much! If you're looking to add a fur baby to your family, please consider Adopting a pet, there are so many out there looking for a loving forever home!